Part of the Zumtobel Group of companies, Thorn Lighting took home Best Project – Commercial at Voltimum's Smart Solutions Awards 2018, held at UK Construction Week.

Brand new Danube Arena gets state-of-the-art LED lighting from Thorn and Zumtobel – making it one of the first LED-lit sports venue in Hungary
New Products
Our most versatile outdoor solution yet, Flow integrates seamlessly into any urban setting, allowing designers to create a unified look.

This robust and high-performance LED street lantern brings comfort and safety to any road or street.

With historic style and cutting-edge lighting technology, EP 445 brings you the very best of both worlds.
Application by Case Study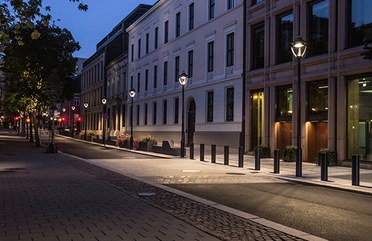 Thorn refurbishes City of Oslo lighting with efficient LEDs and smart controls.