The latest product launches from THORN
Nov 27, 2019
Edition 2/2019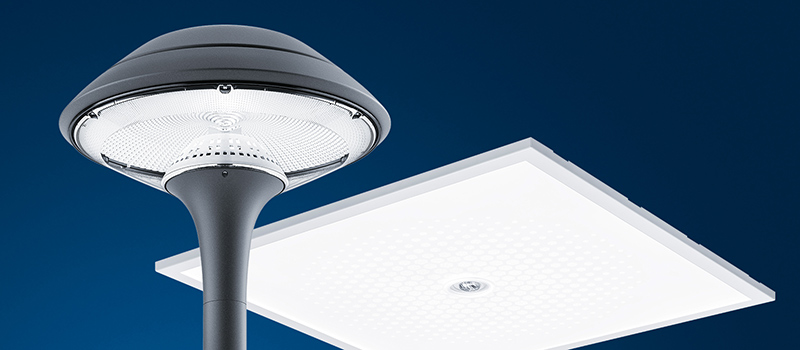 THORN's latest product launches are equipped with new technologies to increase flexibility, connectivity and lighting quality.
Enjoy discovering our product launches and improvements.
| | |
| --- | --- |
| | Omega Pro 2 is the new solution for lighting modern offices and educational facilities with three application-oriented optics and the patented plug & play C-Kit. Thanks to the different mounting options and the C-KIT, the luminaires can be adapted modularly and flexibly to different application situations, from emergency lighting to digital services.  |
| | The Plurio LED family of decorative post-top luminaires is available in four different design variants with direct optical module or indirect reflector unit. Both lighting solutions minimise light pollution and prevent the light from radiating upwards. Plurio LED Indirect is also the first Thorn luminaire that can be equipped with the new NightTune technology. NighTune allows flexible adjustment of colour temperature and lighting level during the night to save energy, conserve the night ecosystem and improve safety and well-being. |
Improvements to the THORN range
IQ Wave SP combines SWD (pull cord) and HFIX in one luminaire now. Moreover, with a surface mount light distribution for pendant with 90:10 direct / indirect split, the luminaires can be installed closer to the ceiling.
The application scope of our Beta 2 is extended by IP65.
PopPack LED master luminaire, equipped with PIR sensor, now can control a group of slave luminaires by means of hard wiring. Additionally, more than one master can be included in a cluster of luminaires to allow simple on/off function for all battens in one cluster.
For HiPak Gen 3 a MWS RF sensor accessory was launched to increase functionality. With a daylight sensing function allowing adjustment between 2 lux and 500 lux, and a hold time up to 30 minutes, the new sensor is controllable by a multifunction remote that can set, change and test both master and slave variants.
Volupto is a new decorative approach for city environments that blends the classic and the modern design. Environmentally respectful, it combines attractive lighting performances with a wide variety of light distribution options. A truly intelligent luminaire with a fully integrated motion solution.
New features reinforce Areaflood Pro as the reference for industrial areas and recreational sport fields. A higher lumen output optimises the amount of floodlights needed. Moreover, high CRI and TLCI indexes as standard for projects requiring high quality broadcasting and high quality materials as standard for resistance to tough environments. 
← Back to overview